#World Environment Day: Meet this young girl Deepsri who inspires the younger generation to stand for Climate action
June 4, 2020, 11:02 a.m.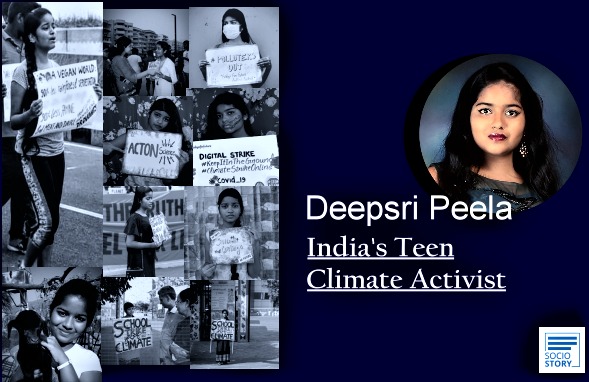 By Reshma Jain:
"I knew about the school strikes from the day Greta Thunberg first started striking in Sweden. I knew that sometime in the year, I'd join the strikers in this side of the world. Finally, Greta gave me the guts to fight. Greta is an inspiration to the world. But I'm me, she's her. We are two different people fighting for the same justice," states teen climate activist Deepsri Peela from Visakhapatnam, Andhra Pradesh.
Little girl Deepsri who completed her tenth grade had started the 'School strike for climate' campaign in the city from December 2019 to spread awareness among people and students on the global climate crisis. Every Friday, from December-March, Deepsri was seen standing under the scorching sun near the Greater Visakhapatnam Municipal Corporation to fight for the campaign 'Fridays for Future'. The lockdown due to Covid-19 did not stop her because this 15-year-old girl is continuing her campaign through digital striking.
The apathy she found all around was the biggest reason to spread awareness on this issue. Her aim is to bring together veganism and climate activism because changing the way we eat is the biggest way of making a positive impact and reducing our environmental emissions.
"Nurture yourself with what's good for you, harmless to the animals and friendly towards the environment," because that's exactly what food is supposed to be in a peaceful, just world, exclaims Deepsri who skipped school for 16 weeks to fight against climate crisis.
Deepsri is the lead organiser and international co-ordinator for Youth Climate Save Movement India which is a part of Youth Climate Save. This global movement started just two months ago and already has 60+ chapters in nearly 20 different countries.
Her mission like the mission of several vegan climate warriors in the world is to change the attitude in the climate movement by including food system change in worldwide plan of action in climate activism.
The 15-year-old further adds, "My motivation is action. I always believe that to act, we must possess at least some degree of hope and to hold hope, we must take action, because that is how it works."
On being asked which aspects of global warming she finds most damaging to the earth, the young girl said, "It is ecological breakdown and the disturbances in wildlife that the crisis is causing. An ecological imbalance due to this rapid species extinction and endangerment is breaking our ecosystem. The animals that were once seen abundantly, and the forests that we lived in harmony with are vanishing as we are 'expanding' our civilization," she lamented.
Speaking on the challenges she faced, Deepsri, added, "People often criticised me. I was teased on the streets, laughed at and sometimes the climate deniers argued with me for hours. But none of that could break me because I stick hard to my purpose."
"The biggest challenge for me during the more than 100 hours of strike outside GVMC was the fact that for most of the time, I was striking alone. Despite the criticism, there were hundreds of people I have met, hundreds that know my name and drew inspiration. And when there's so much impact, I would never be brought down by a stranger's hurtful false mockery," added the brave girl.
Deepsri's future mission is to build a 'VEGAN' tomorrow, a 'JUST' liberated world for all animals and everybody. She wants to help the climate movement to shift equal focus towards animal agriculture and to grow the movement of Youth Climate Save. She also said that she will speak out till the country declares the climate crisis and till animal agriculture is spoken about.
She further asserts, "If there's hate, I conquer it with love. If there's ignorance, I conquer it with wisdom. If there's false claims, I defeat it with the truth."
My message to everyone is that- "If you breathe air, you must care," signs off Deepsri Peela.
Important : If you are making an impact in the world, Please send us your story at : manoj@sociostory.in and we will try to cover you.