#World Environment Day: Meet this young man who is on the mission to save animals
June 5, 2020, 8:24 a.m.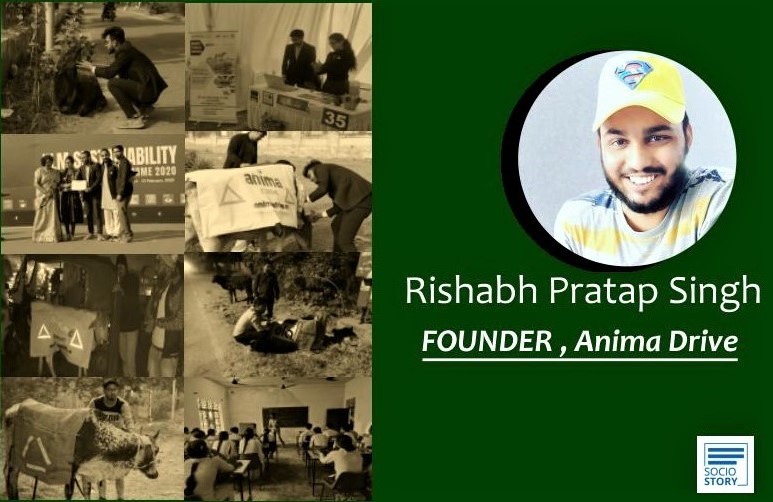 "The greatness of a nation and its moral progress can be judged by the way its animals are treated." ― Mahatma Gandhi
On this Environment Day let us all remember the benevolent words spoken by Mahatma Gandhi Ji and assimilate his saying
If we follow Gandhi Ji's principle then we ought to come to the conclusion that our nation has lost its greatness.
Just a few days ago we all witnessed a tragic death of a pregnant elephant as she consumed a pineapple filled with firecrackers inside. Countless incidents like this keep happening around our country and the poor animals suffer. Watching animals writhe with pain, a young social entrepreneur, Rishabh Pratap Singh resolved to figure out a solution to put an end to this agony. As a consequence of his firm determination, Anima Drive came into existence.
Rishabh Pratap Singh is a resident of a small village that comes under district Etah of Uttar Pradesh. Growing up he witnessed the pain that animals suffer from and led him to take an initiative for the welfare of stray animals.The unproductive cattle keeps wandering around the village and destroy the crops. The farmers incurring losses beat them out of anger.
As Rishabh completed his schooling and went out to pursue engineering in Greater Noida, he sought to resolve the problem that he had seen since his childhood. He offered a solution to the villagers to make the unproductive and stray cattle economically viable. With the help of the villagers, he set up a vermicompost and started selling it to the farmers. But this was not the end of the story, in India nearly 8 lakhs abandoned cattle roam freely and facing brutality every day. It was June 2019, when he developed a new type pf vermicompost that will support the cause of giving shelter to these battles. Generally, the fertilizer made out of cattle dung spreads odour and looks messy. Rishab mitigated these problems by adding the fragrance and providing an aesthetic appearance to the product, making it ideal for indoor gardening, kitchen farming and terrace gardening. After successfully developing the product, he made his own team that shares his vision, of making a safer and caring environment for the animals.
To provide a direction to his initiative, they named it 'Anima Drive' and started working for the welfare of the animals.
Anima Drive is an initiative that aims to help the animals through spreading awareness and love for animals. The team has been able to organise various projects successfully in order to realise their dream.
They started their journey by providing jute jackets to the stray animals in order to protect them from cold. The jackets were specially designed to serve many purposes like by introducing plastic sheet as a shield from rain or the reflectors glued in which can be seen from far away in winter fog or in the dark thus avoiding any unfortunate accident. Through this project, they were able to save 250 cows from meeting a fatal end and tried spreading their campaign in order to inspire others to do the same.
During the lockdown when the rumours about Covid-19 infecting the animals spread, people started keeping away their pets from them. Anima Drive stepped in to spread the awareness and cleared away the confusion brought on through their " Selfie with pet" contest. With the support of many, the contest turned out to be a huge success.
Another successful project by Anima Drive is "Social Pathsahala" aiming to make a friendly atmosphere for the birds by collaborating the schools. The team provides online activity sessions to the students and encourages them to participate actively. Till now they have joined with schools in cities like Noida, Greater Noida, Jalesar and Jewar. They are trying to connect with as many schools as possible with social pathshala.
To be a part of Social Pathshala you can follow through their website animadrive.in. The activities aim to save the environment by making the house plastic-free and using it to prepare a feeding bowl for birds to keep water, naming it Bottle to impact. Currently, the team is working to collaborate with Gaushalas in order to provide them with support to sustain their operations. Gaushalas majorly depend on the donations to carry out their functioning and often lack facility. Anima Drive aims to offer them a viable solution so that they can function independently. Together they would set up a plant to manufacture the goods and sell them. The revenue would be used to run the Gaushalas and provide a shelter to the stray cattle.
Anima Drive came into the existence due to the negligence on our part towards nature. The campaign started with a purpose to ensure the well being of the animals around us. Anima Drive is our opportunity to right the wrong.
On this Environment Day let us all take an oath to be more conscientious towards our environment.
Important : If you are making an impact in the world, Please send us your story at : manoj@sociostory.in and we will try to cover you.