World's youngest scuba diver Debopriya Saha is now on a mission to spread awareness on marine pollution
Aug. 23, 2022, 6:43 p.m.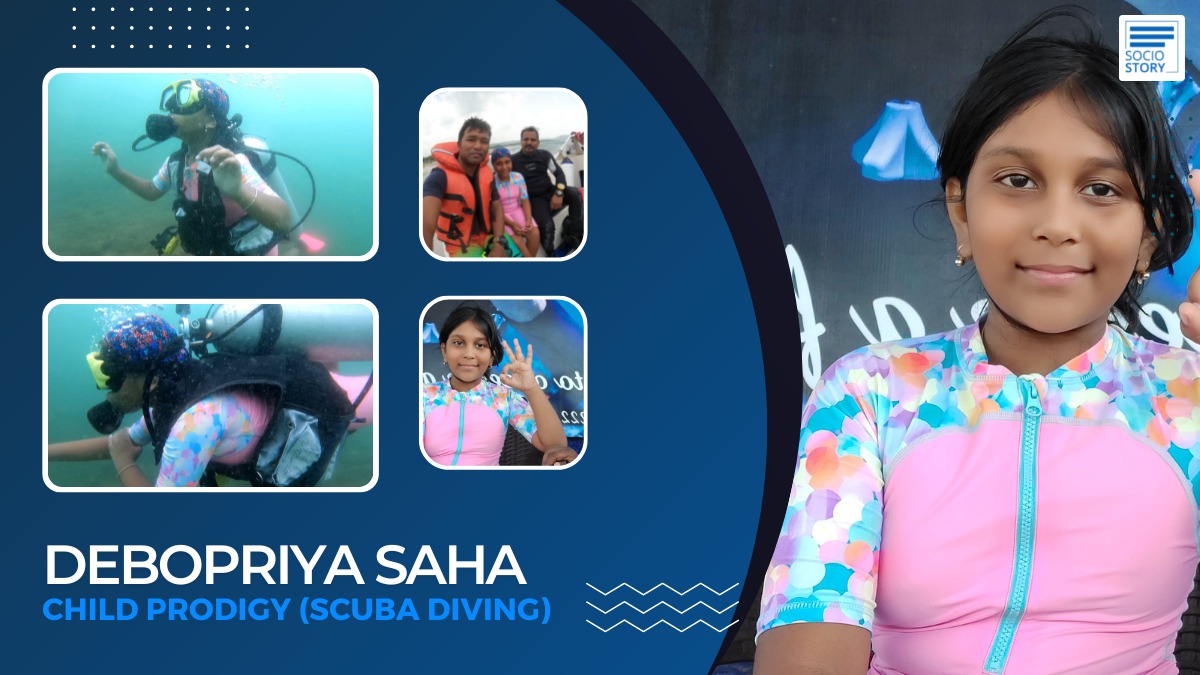 By: Reshma Jain
What can be more thrilling and exhilarating than celebrating one's birthday by diving underwater amidst stunning underwater flora and fauna, feeding the colorful fishes and experiencing a different world under the sea. For Debopriya Saha (daughter of Dipankar and Ratna Saha) who turned 10 this year, it was an exhilarating experience when she dived to a depth of 35 feet in the Bay of Bengal off Rushikonda coast. While it was an experience like never before, she was left gasping for more!
Inspired by her father Dipankar Saha who is a retired naval officer and a professional diver, Debopriya left no stone unturned while celebrating her birthday with a purpose and in an attempt to set a world record. Claimed as one of the youngest scuba divers in the global level to be certified by PADI (Professional Association of Diving Instructors), this brave girl showed no sign of fear or anxiety as she dived into the sea. "When my daughter dived for the first time, I was on the boat and I was a little afraid. But when I saw her photos and videos, I observed that she was fearless, confident and enjoyed her dive. Hence, I was sure of the fact that she can explore more opportunities in the future with the support of professional divers," stated Saha who is now residing in Alipurduar, West Bengal.
Saha further added that Debopriya was always thrilled and fascinated by the pictures and videos of the underwater world which he shared after his dives. When she expressed her interest in exploring the underwater, she was given rigorous training in swimming followed by a scuba diving course. "When she witnessed the turtles getting entangled in the nets and the marine pollution, she was disturbed by the fact that this is due to the reckless attitude of human beings. Hence, she aspires to become a marine biologist and work around marine pollution," stated the proud father of Visakhapatnam-born Debopriya who is now in grade five.
After completing two open water dives (12 metres and 14 metres) and one confined dive under the supervision of a professional diver, Debopriya completed the certification after three days of training in shallow waters. Debopriya was accompanied by Balaram Naidu, a scuba-diver instructor and director of Live-In adventures. Speaking to Socio Story, Naidu said that the certification requirements for PADI junior scuba diver course are; one must be at least 10 years old, good swimming skills and physical health. "Debopriya was comfortable, confident, fearless and brave. She followed all the instructions diligently and showcased good skills," shared Naidu.
"The will to dive, following instructions/guidelines, being mentally and physically fit, facing challenges with confidence are a few criteria that needs to be taken into consideration. Her next course of action is a recreational dive along with a group of people either in the Andaman and Nicobar Islands or Maldives in the month of October. She also wishes to do a free dive (without the use of breathing apparatus)," added Debopriya's father.
Debopriya who is a fan of Parineeti Chopra wishes to spread awareness on marine conservation. "I will encourage my peers to dive with me to get an experience of the underwater world," concluded the adventurous girl who spends a lot of time watching YouTube videos.