Youth motivation ambassador Sunil is spreading happiness and knowledge through his channel
May 15, 2021, 9:47 p.m.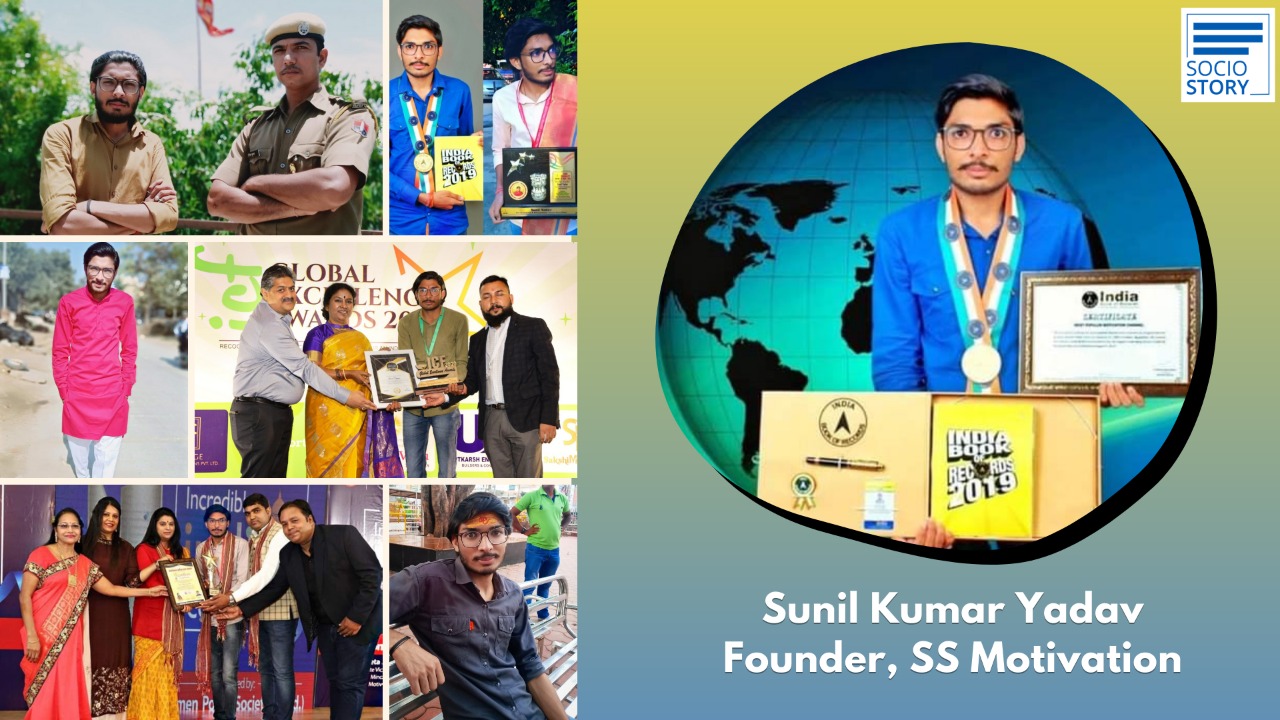 By:Reshma Jain
When Sunil Kumar Yadav was not successful as an entrepreneur, he lost hope. Not once, not twice, Sunil failed eight times when he tried his hand in establishing startups. Eventually, the pressure mounted up and negative thoughts due to failures led to anxiety and depression. Sunil was on the verge of attempting suicide when his family and friends helped him to cope with depression.
That was a turning point in the life of Sunil and this incident ignited a spark in him to bring a difference in the lives of others. With a mission to instil a ray of hope among people, Sunil started a Telegram channel called 'SS Motivation' on October 19, 2018. From publishing motivational content to coping with depression and life inspiring thoughts, the views on his channel have grown by leaps and bounds. This popular telegram channel which presently has more than 163k subscribers, received the Indis Book of Records 'Most Popular Motivation Channel 2019' award and the Bravo International Book of World Records for the 'Most Subscribed Motivational Channel' on Telegram.
"As I battled depression, I observed that a lot of people were suffering from similar issues. I wanted to stand as a pillar of support for them and this motivated me to start something of my own," reminisced Sunil who always wanted to contribute to the society.
Brainchild of Sunil, 'SS Motivation' channel was initially an experiment by him for social media and entertainment purposes. However, with time, Sunil started posting quotes, shayaris, poems, and images based on his personal life experiences. He tries to keep people informed, motivated and helps them drive away from stress and depression. Over the course of a year, 'SS Motivation' has achieved 12.73 crore views last year, with followers from across fifteen countries, and it is expected to cross the mark of 10 million by the end of 2021. Sunil who has been inspiring people has a fan base of 5 million on social media, with more than 2 million followers on Facebook.
Son of Kamlesh and Shishram Yadav, Sunil hails from Alwar in Rajasthan. Popularly known as Sunil Ydv SS, this young entrepreneur is also a social activist, influencer and an author. Sunil is always seeking more ways to contribute to society and participate in both online and offline causes. His heartfelt messages have helped many people to follow his entrepreneurial journey. Apart from his popular social media pages, this relentless worker has also authored a book called 'The Secret behind SucceSS'. This book guides budding entrepreneurs and also helps people to cope with depression and other related issues. It is also an open book for success mantras which helps people to deal with real-life situations.
As a social activist, Sunil has worked with more than 50 MLAs to support various causes and to bring a positive change in the society. Speaking to Socio Story, the young and talented entrepreneur said, "It all started with the campaigns that we initiated a few years ago. For instance, we used to run campaigns on Hunger and poverty, 'Save Trees', 'Save water', etc which received tremendous response. My journey as a social activist started from there and I am happy to lead my life as an example."
Sunil, who was selected as a delegate at the Global Goals MUN 3.0 in Thailand in 2019, said that he draws inspiration from Indian actor Nawazuddin Siddiqui. "Siddiqui, although struggled a lot in his life, did not lose hope. He sets an example that we must learn to live life with success and failure. Hence, he is my inspiration and I try to motivate people through my work," shared 24-year-old Indian sensation Sunil based in Delhi.
For his untiring efforts, Sunil has received 25+ State and National Awards, including Karamveer Chakra, Rastra Prerna Award, and the 2019 Iconic Personality of India award. Additionally, he received the 2019 Incredible Indian Icon Award and Humanitarian Excellence Award in 2019 and 2020.
At the present scenario when all of us are reeling under a crisis, Sunil feels that the need of the hour is to spread positivity. Sunil tries his best to reach out to people and motivate them through his work. Sunil's endeavors in various aspects of life, people and situations have helped hundreds of people over the years and continues to do so. After having received a lot of personal messages from his subscribers, fans and family members for putting his efforts to help the Indian community and society overcome traditional challenges, logic, and thoughts, Sunil still believes that his work can reach a larger audience.
Important : If you are making an impact in the world, Please send us your story at : manoj@sociostory.in and we will try to cover you.